Ben Tour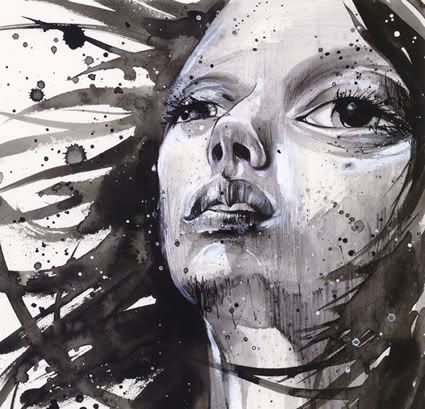 Ben Tour's paintings and drawings are primarily portraits of characters real and imagined, forming a kind of visual diary of personalities that have impressed Tour, and inspired him, even in their absence, capturing the qualities of those impressions. The images are nearly always composed of a central figure occupying an indistinct ground, with passages of pristine white space offsetting densely detailed areas, keeping the eye curious. Subtle variations in colour and the unexpected transitions between them give both the figures and their surroundings a haunting, indeterminate aura and rich painterly texture. Faces are modelled using dissonant pigmentation and jaunty distorted contours; his portraiture is not realist, it is evocative. It has gravitas, wit and specificity without regard for accuracy.

Adding to the liveliness of the paintings is the variety of media he employs, from acrylic and spray paint to ink, graphite and rub-on lettering. This is particularly interesting, as he uses alphanumeric characters as elements of abstraction, not as text per se. The relationship between the shapes built from poured, wet paint and the striking gestural lines that hover over them turn these sensual abstractions into welcome cogent forms. Evidence of his process remains visible everywhere; engineering figures that become defined from the inside out.
All Ben Tour limited edition prints from Fine Grime have been appraised and approved by the artist. Each print supplied by Fine Grime is a superb image and satisfies the quality standards set by Ben Tour for art prints. Each limited edition print series from the Fine Grime Gallery is normally available for immediate delivery.

Scroll down to Shop Ben Tour at The Fine Grime Gallery