Paul Lemmon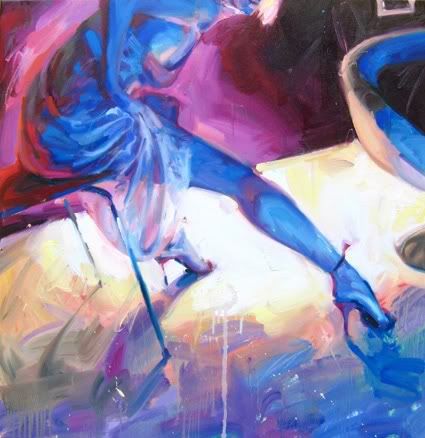 Paul Lemon is a self-taught artist and has painted in various different media for most of his life. He has worked as a graphic designer for over ten years after graduating from Kingston University and this experience has helped him develop a particular appreciation of composition and the use of photography and colour. His work is about capturing "the moment" within the context of nightlife and social interaction. His starting point is an idea which could be termed the "snap shot aesthetic".
His subject is gleaned from hundreds of photographs, which he constantly takes whilst out at night, in an attempt to record and distil some essence of the atmosphere and spontaneity of modern nightlife. He has a love of oil paint and colour and his skill is to use these to convey a richness of light and a remarkable sense of life and movement. His work is intended to have a cinematic feel and is influenced by media, fashion and advertising. The angle of view point and cropping, lend a sexual, voyeuristic undertone to the scenes which he hopes also adds to their intrigue and narrative quality.
All Paul Lemon limited edition prints from Fine Grime have been appraised and approved by the artist. Each print supplied by Fine Grime is a superb image and satisfies the quality standards set by Paul Lemon for art prints. Each limited edition print series from the Fine Grime Gallery is normally available for immediate delivery.

Scroll down to Shop Paul Lemmon at The Fine Grime Gallery